Brazed Plate Heat Exchanger
INQUIRY
Description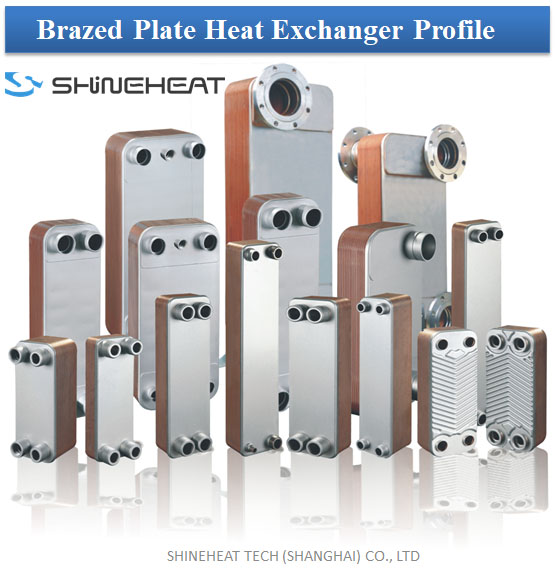 Brazed Plate Heat Exchanger
The Brazed Heat Exchanger design is
constructed using a series of thin corrugated Stainless Steel plates that are brazed together with Copper or Nickel in a vacuum furnace.
One of the most effective ways to transfer heat from one medium to another, our brazed plate heat exchangers are a great cost-saving alternative to conventional evaporators and condensers used for all types of commercial and industrial refrigeration applications, cooling, air conditioning and oil cooler duties.
Less space and weight, a wide range of sizes and cooling capacities, high heat transfer coefficient, great versatility, available for high-viscosity fluids and low energy consumption are just a few of the many benefits.
Brazed Plate Heat Exchanger Features
Compact design and low fouling tendencies
High corrosion resistance
Low capital investment
NPT or BSP connection type for water/brine side
Approvals
CE certificate according to (PED) 97/23/EC UL
RoHS
Brazed Plate Heat Exchanger Technical data
Stainless steel AISI 316L,304L,SMO 254
Copper or nickel brazing
Heat load between to 1 KW and 550 KW
Tempmin -195o C, Tempmax +200o C
Design pressure up to 45 bar
connections: threaded and/or welded
double circuits and modular applications
R134a, R22, R410A, Water, …CO2
Oil, Air dryer and others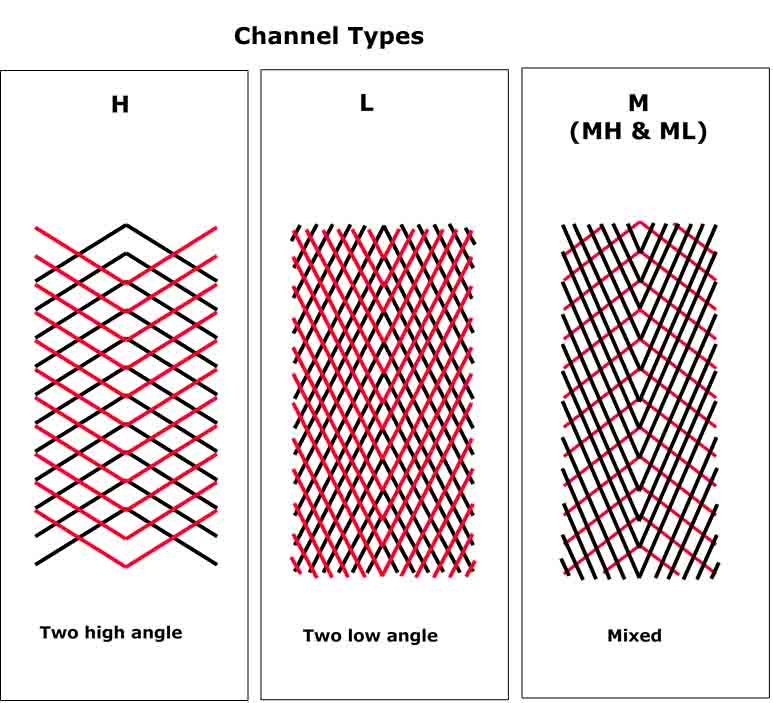 Plate angle and pressing depth influence both the pressure drop and thermal performance of the plate. Plates can be combined and mixed for optimum performance.
Principal Brazed Plate Heat Exchanger
Plate Design Features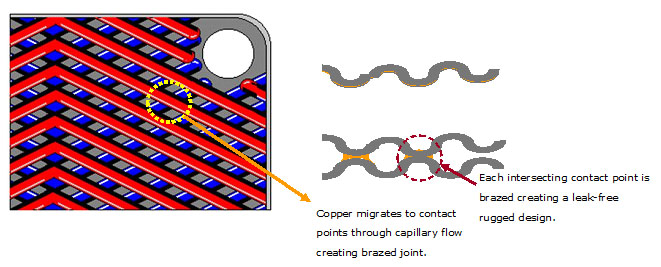 Contact points
Thermal length and width
Port locations
Pressing depth
Distribution areas
Press pattern & angles
Mitigating "dead zones"
Brazed joint design
Creating a strong pressure vessel
Every second plate is turned 180°
Chevrons create the contact points
The Description of Model Name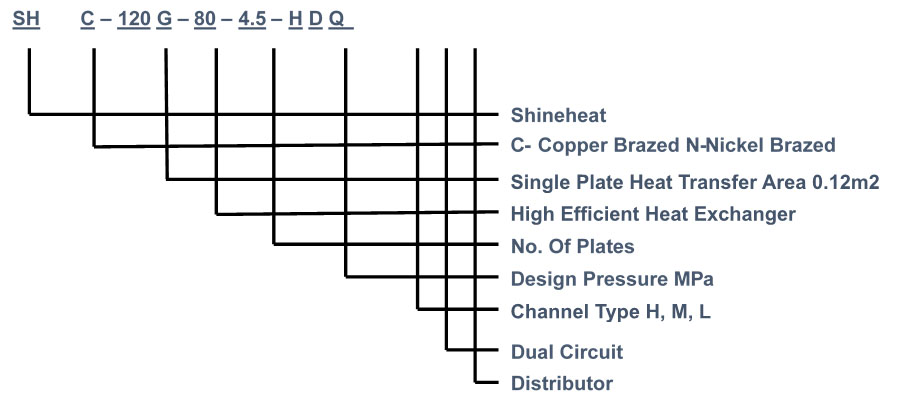 Brazed Plate Heat Exchanger Dimension Data