About "HESSA"
HESSA INSTRODUCTION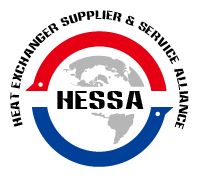 "HESSA" (Heat Exchanger Supplier and Service Alliance) is a group of international companies who are dedicated to design, manufacture, distribute Heat Exchanger products and services of the highest quality at fair prices.
HESSA members are independent Heat Exchanger manufacturers / distributors who offer Heat Exchanger Products and Services Globally.

Our Goal: HESSA to provide customers an extensive portfolio of Heat Exchanger Technologies and networking services through local HESSA members, realizing prompt and comprehensive services for Heat Exchanger products.

Our Mission: HESSA is an international trade alliance and association dedicated to improve, simplify and strengthen the distribution of Heat Exchanger products in the international Heat Exchanger markets.

Our Vision: HESSA to promote and grow our member companies through offering extensive Heat Exchanger products, share product -, process - and project experiences and play an increasingly influential role in a wide range of industries.